In science we have begun the space and space technology unit. Students make models of the solar system, learn the difference between the birth of our Sun and the Big Bang, learn how to read a star chart and identify some prominent constellations, and build their own model of a space probe.
In ELA, students are doing test prep by reading fiction and non fiction pieces and practicing writing open ended and essays responses to their reading.
There is a new reading log format Also, students should be recording their thinking while they are reading for 30 minutes each night using post its.
In language arts, students are reading books and articles about social issues. In writing, students will be reading and learning about controversial topics in order to take a position, develop reasons for their position, then write an argumentative essay.
There will also be practice for the PARCC test.
Special schedule 2014 -2015: Before School activities
Day 1 - P.E. Mr. Schinelli (GT Art )
Day 2 - Music
Day 3 - Art (GT Music )
Day 4 - P.E. (Chorus )
Day 5 - Media (Orchestra)
Day 6 - Spanish (Band)
Please contact me with any questions and concerns. My email is cebneth@livingston.org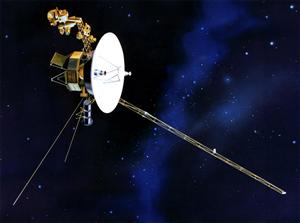 Voyager spacecraft - first man made object to leave the solar system