Transportation Department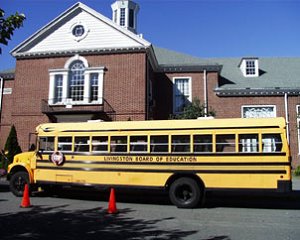 The Livingston Board of Education follows State guidelines in providing free transportation for children in grades K-8 who live more than two miles from school and for children in grades 9-12 who live more than 2½ miles from school. Subscription Busing is available on a lottery basis for students who are not eligible for free busing. It is available on existing routes only, unless a new route can be established at no additional cost to the Board.
If your child does not qualify for free transportation and you wish to purchase Subscription Busing for the 2015-2016 school year at a cost of $810 per student round-trip and $405 per student one-way, please complete a
Subscription Busing Lottery Application
. Applications for each student must be submitted each year. Applications for the Subscription Busing Lottery are due by
June 30, 2015
.
The lottery is held on or before July 7 each year; parents/guardians will be notified by mail. Applications received after the lottery is held are placed on a waiting list and accommodated on a space-available first-come basis after the lottery applicants are accommodated.
Transportation Manager

Phone: 973-535-8000, x8027

FAX: 973-535-1794

Secretary

Phone: 973-535-8000, x8013