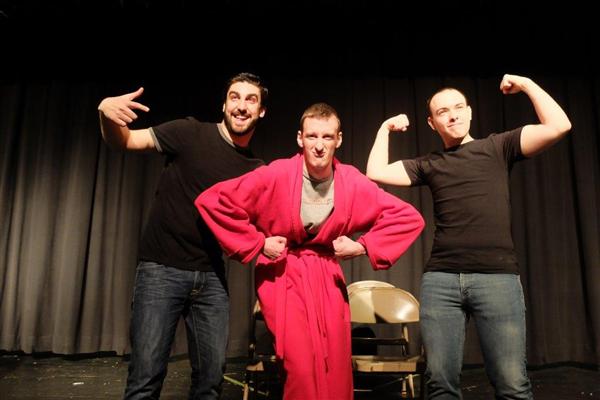 "A Life Without Death," a play by Bella Brodsky, a high school freshman, was recently staged at Heritage Middle School as winner of the Apricot Sky Production's playwriting contest.
Actors from the Montclair-based theatre troupe performed the original one-act play, which explored the complexities of life and death from the viewpoint of brothers and the lives they could have led.
For Bella, the staging was the first time she had seen her work leap from words on a page to a fully realized production of the work. "It was perfect," she told Director Bob Lowy. "It was exactly how I thought it would be."
Eric Alter, the company's founder and executive producer and Livingston resident, said he was impressed with both the maturity of Bella's writing and the seriousness of her themes. The play was written while Bella attended 8th grade at Heritage as part of a playwriting contest sponsored by Apricot Sky Productions.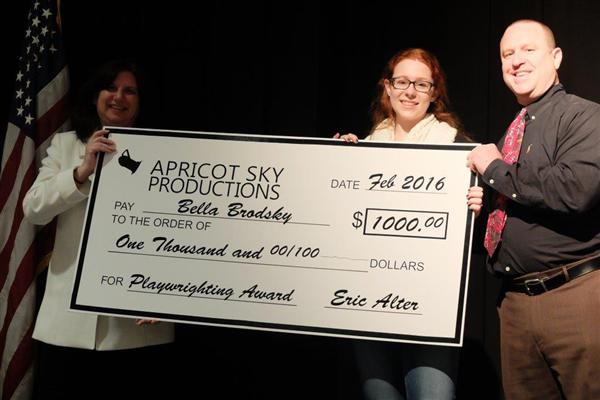 Alter is a screenwriter, playwright and poet. His plays have been performed locally at the Grove Street Theatre in Montclair, New York City, and around the world. The theatre company he founded 16 years ago stages original plays, often to benefit nonprofit groups. In 2011, Alter wrote and produced an evening of original one-acts dedicated to the 10-year anniversary of 9/11 with donations going to the National September 11th Museum and Memorial.
"Giving back to the community is important to who I am and what Apricot Sky is all about," Alter said. 

A year ago, Alter was invited to share his experience as a playwright with students at Heritage Middle School and to introduce the one-act playwriting contest.
As winner, Bella was awarded a $1,000 scholarship and the opportunity to see her play come to life with a full audience. Actors Lou Pipon, Mark Schellhorn and Rudy Palma performed the play directed by Mr. Lowy, an actor and director whose first performance was as a student at what was then known as Mt. Pleasant Junior High School.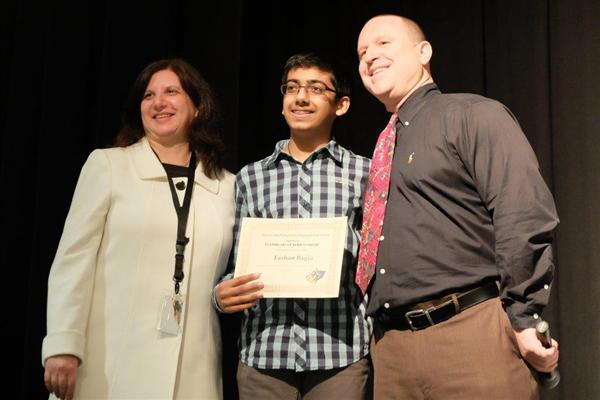 Alter said he wanted to give students at Heritage Middle School a chance to foster creativity. He received a number of submissions and said he was pleased with the first-year outcome. "I was impressed with all of the students' writing," he said. "They were truly fantastic."
A play by Eashan Bagia, a freshman at LHS, titled "Guitar Man," was selected as the second-place winner. Eashan was also awarded a scholarship, and all students who took part in the challenged were presented with certificates.
Teacher Lenore Argen coordinated the contest. "She was instrumental in making this happen," said Alter, who hopes to make the contest an annual event.
Captions:

Bella Brodsky, a freshman at Livingston High School, receives a scholarship check from Eric Alter, founder of Apricot Sky Productions, and teacher Lenore Argen as winner of a playwrighting contest sponsored by the Montclair-based theatre troupe.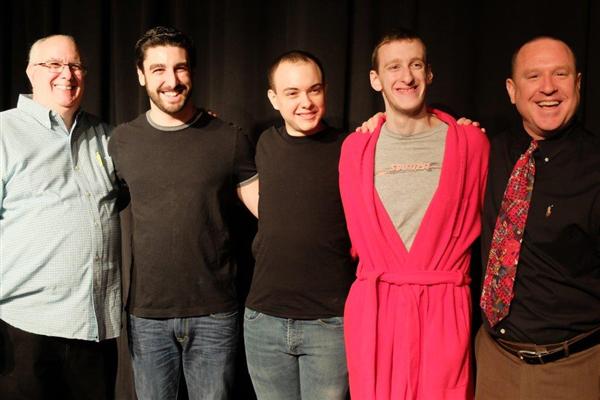 Eashan Bagia, a freshman at LHS, whose play "Guitar Man" was also recognized in the playwrighting contest as the second-place winner.

Members of Apricot Sky, from left Director Bob Lowy, actors Rudy Palma, Lou Pipon, Mark Schellhorn, and Founder Eric Alter.