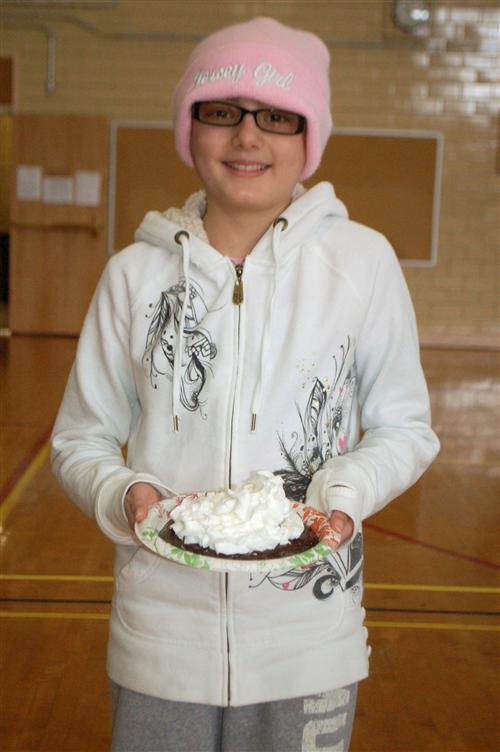 Teachers took it on the chin -- and on the nose and face
--

on Pi Day at Mt. Pleasant Middle School, good sports who not only promoted mathematics education but also raised money for children with cancer.
Teachers in many Livingston classrooms celebrated the number pi
--

3.14 (the ratio of a circle's circumference to its diameter) -- on its own special day 3/14, or March 14. The pi revelry reminds students that the math they're learning is used every day by real people in the real world – from engineers and builders to programmers and accountants. And at Mt. Pleasant Middle, a delicious convergence of food and math.
Mt. Pleasant Middle School put the (whipped cream) pie in Pi Day to raise money for middle school classmates fighting cancer. Students donated money for the chance to "pie" teachers, principals, guidance counselors, and Livingston Police Officer Joy Klapal.
In a school that regularly celebrates Puma Pride, teachers wore Puma Pi T-shirts donated by local business, ZapGo – and in some cases, raincoats, goggles and shower caps in this slapstick comedy act for charity.
The first toss went to Gabby DeFilippo, an MPMS student in
consolidated
remission from leukemia. She missed on her first try, but had a direct hit on the second. "I got to pie Officer Joy and I didn't even get arrested," Gabby joked .
Math teacher Susie Hamano Ferguson and Christina Ness, math and science teacher, organized the event, finding strength in the number of their colleagues who would actually sit for a creamy slap in the face.
"It's amazing how so many selfless staff members were willing to endure a little humiliation in the name of charity," Ferguson said. "We have an amazing, supportive staff that is literally willing to take one in the face!"
Social studies teacher, Audrey Giordano put it simply, "It's for kids with cancer. Of course I'm going to volunteer.'"
The finally tally: 23 direct hits, 2 misses.
$1,453 for cancer research.