Return to Headlines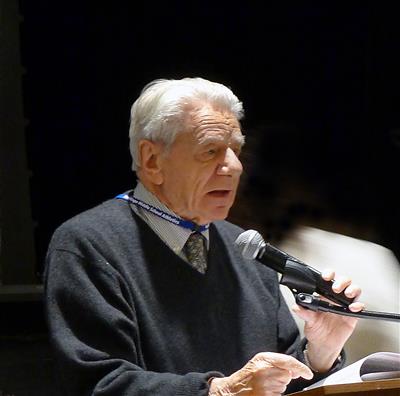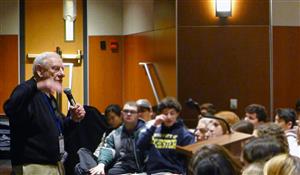 Dr. Norbert Bikales (left) and Fred Heyman (right) shared their stories of survival with Heritage Middle School students.
Holocaust survivors Fred Heyman and Dr. Norbert Bikales recently spoke to the eighth grade class at Heritage Middle School. All eighth grade students read Elie Wiesel's "Night" as part of their unit of study entitled, "Why Should We Remember?" Hosting Holocaust survivors provides an impactful learning opportunity for students to hear first-hand from those who experienced this unspeakable tragedy.
Both Mr. Heyman and Dr. Bikales were referred to HMS by Mrs. Jill Tejeda who teaches a full-year course on the Holocaust at Livingston High School. Her students, along with LHS history teacher Dave Meade, were in attendance that day.
"We study the past to learn from the mistakes that were made so that as a human race, we do not make the same mistakes as our predecessors did," said HMS principal Shawn Kelly. "Those who have survived the Holocaust, such as our speakers Fred Heyman and Dr. Norbert Bikales, not only share their amazing life stories of survival with our students, but also give them a glimpse of what it was like to live through one of the most difficult periods in the history of mankind.
"More importantly, they also directly show our students what it means to persevere, dream, and believe. As a school, we are constantly talking about 'grit' and how we can embrace the concept so that we may face our fears and failures, and learn from them. Therefore, the value of having survivors of the Holocaust speak directly to students, not only gives them the opportunity to hear of some amazing stories of survival and tragedy, but it also reminds our students of how they should choose to respond when they may feel like they themselves are in a difficult situation."
In addition to sharing their stories, which are summarized below, Mr. Heyman and Dr. Bikales answered questions about how they adapted to living in the United States, the role of education in their lives, and how they connect with the experiences of other survivors.
Fred Heyman
Born in Berlin in 1929, Mr. Heyman grew up in Berlin during Adolf Hitler's rise to power. He began to notice as a young boy how his freedoms and his life began to change over a short period of time. At one point in time, he was no longer allowed to ride a bicycle, see a non-Jewish doctor, use public transportation or attend a German public school.
Mr. Heyman's family was eventually separated during the war when his father and was arrested and transported to be deported to a concentration camp. Eventually, the Gestapo would come looking for Mr. Heyman, but he was able to escape being captured because his mother had made him pretend he was ill. He was fortunate that they would not come back to look for him again. Mr. Heyman's father was eventually liberated from his camp and was able to rejoin his family at the end of World War II. They emigrated to the United States in 1946.
Mr. Heyman has dedicated much of his life to sharing his experiences with others. His life story and works were recently captured in the documentary entitled, "Be an Upstander: The Fred Heyman Story".
Dr. Norbert Bikales
Born in Germany, Dr. Norbert Bikales survived the Holocaust in Germany and France.
Mr. Bikales was separated from his parents at a very young age, when they were placed on a train destined to a concentration camp. It would be the last time that he saw his mother and father. A few weeks after his parents were forcibly expelled from Germany, Mr. Bikales left the country as part of the Kindertransport Rescue Program, which would eventually save more than 10,000 children's lives during the nine month span that the program operated.
He spent much of his youth in France, learning the language and the nuances of the country, and the important skill of blending in. He would eventually reunite with his brother. Together, they emigrated to the United States, where he pursued his education in the sciences, eventually obtaining his Ph.D. Dr. Bikales is a polymer scientist who has edited the major work in his field. Other career highlights include research, a professorship at Rutgers University, administration of a major science program for the U.S. Government, and a diplomatic posting in Paris, France.