Return to Headlines
2023 Educators of the Year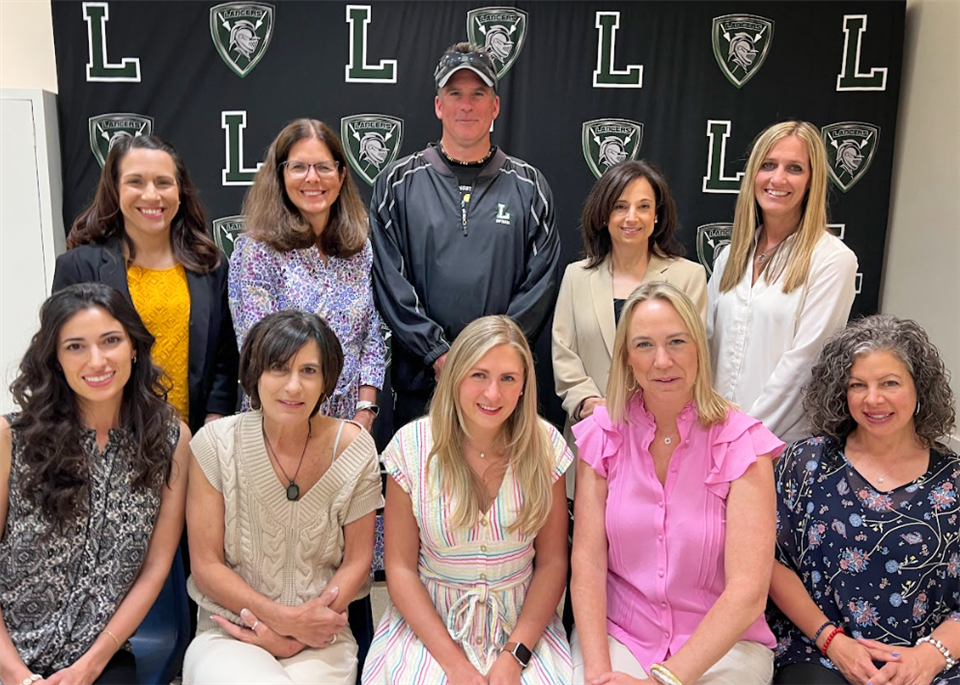 2023 LPS GOVERNOR'S EDUCATORS/EDUCATIONAL SUPPORT SERVICES PROFESSIONAL OF THE YEAR
(back row) Dana Triana (MPE); Susan Tannler (HMS); Dave Mead (LHS); Stephanie Chinni (BHE); Jodi Frohnapfel (Harrison)
(front row) Alexandra Fiore (MPM); Melissa Gengaro (Hillside); Amanda Clayton (Educational Services Professional of the Year); Katherine Miller (Collins); and Ana Maria Corino (Riker Hill)
At its meeting on Monday, May 15, 2023, the Livingston Board of Education recognized the district's 2023 Governor's Educators of the Year, as well as the Educational Services Professional of the Year.
The New Jersey Department of Education (NJDOE) strives to recognize educators who have gone above and beyond in their service to New Jersey's students. Therefore, every school in every district in NJ is encouraged to participate in the Governor's Educator of the Year program to honor the hardworking teachers and educational services professionals for their dedication to their students and the profession. The LPS celebration integrates what the district used to call the "Teacher of the Year" program with the "Governor's Teacher/Educational Services Professional Recognition Program" to continue to recognize our state's extraordinary teachers and educational services professionals.
Prior to the ceremony, all of the LPS honorees enjoyed dinner with school board members and district administrators. After dinner, they were joined by family members and friends in the LHS auditorium where school principals introduced the honorees and presented them with a plaque and gift.
Principal Lisa Sama Barreto proudly introduced first grade teacher, Stephanie Chinni, as Burnet Hill Elementary's Governor's Educator of the Year.
Mrs. Barreto noted that Mrs. Chinni exemplifies the definition of a dedicated educator.
"She works collaboratively with her grade level team to discuss best educational practice while also supporting the greater school community offering her instructional ideas and knowledge," said Mrs. Barreto. "Stephanie works diligently to advocate for her students making sure they have everything they need to succeed. She is also in constant communication with her families ensuring that the home and school are united to support her students."
Collins Elementary's Governor's Educator of the Year, Mrs. Katherine Miller, was introduced by principal Mrs. Michelle Cebula. Mrs. Cebula stated that Mrs. Miller, who is a special education teacher, demonstrates "unwavering support for her students day in and day out."
"She is kind, caring and compassionate," Mrs. Cebula added. "Katherine's classroom is one where students are celebrated and valued for being unique! Her students thrive because they know she is there to support them along the way."
Mrs. Cebula shared quotes from Mrs. Miller's colleagues and students, and noted that it is an honor to work alongside her each day.
Principal Dan Garcia introduced fourth grade teacher Jodi Frohnapfel as Harrison Elementary's Governor's Educator of the Year. He described her as "supportive, collaborative and a true leader."
"She has an uncanny ability of cracking the code on kids and gets students to see the uniqueness in their peers and the joy that comes from it. She is innovative," said Mr. Garcia. "Ask every student and I think they would say that she truly understands them and knows them as people… You are a truly gifted educator whose impact will be felt for years and years to come."
Hillside Elementary's Governor's Educator of the Year, Ms. Marisa Gengaro was introduced by principal Carlos Gramata, who noted that he has worked with Ms. Gengaro for a decade.
"She is committed to her students, and goes above and beyond to make sure they get her best," said Mr. Gramata. "She is a dedicated colleague who is well-respected by her peers. She serves as a resource of knowledge and support for them; and sometimes even a therapist.
He added that Ms. Gengaro is always willing to lend a helping hand, and that she is "quite a poet and has a wonderful sense of humor."
Principal Dr. Lorena Dolan introduced Dana Triana as Mt. Pleasant Elementary's Governor's Educator of the Year. Dr. Dolan noted that Mrs. Triana's tireless efforts have made a significant impact on her school and have inspired the MPE community to strive for excellence.
"As a teacher, Dana goes above and beyond to ensure that her students receive the best possible education. She is patient, kind, and compassionate, always willing to lend an ear or offer guidance to anyone who needs it," said Dr. Dolan. "Her dedication to her students is unwavering, and she spends countless hours outside of the classroom preparing lesson plans, grading assignments, and providing feedback to her students."
Dr. Dolan shared that Mrs. Triana is equally devoted to her colleagues and has become a trusted mentor and friend to many of them, and she also serves on various committees and is an active advisor to the student council.
LPS social studies supervisor, Chris Bickel, stood in for Riker Hill Elementary principal Justin Toomey. Mr. Bickel announced that Ana Maria Corino was chosen as Riker Hill's Governor's Educator of the Year. He read Mr. Toomey's comments that described Mrs. Corino as "an exemplary educator and an amazing human being."
"Mrs. Corino is a master teacher who has devoted her whole life's work, driven by the experiences she endured during her own school years, to serve every child who walks through her classroom doors," read Mr. Bickel. "She is truly an artist whose craft is teaching. Her ability to make a lesson come to life, while consistently meeting her students' needs, is her greatest masterpiece."
Mt. Pleasant Middle School's Governor's Educator of the Year, Alexandra Fiore, was introduced by principal Bronawyn O'Leary, who noted that Ms. Fiore "has provided a safe space for personal growth and exploration in the area of art education to the students of MPM since 2011."
"Ms. Fiore works diligently to ensure that art is present in the lives of her students even when they are not in her classroom," said Mrs. O'Leary. "Ms. Fiore curates the MPM display cases, GT Art Show, the District Art Show, and the Livingston Public Library Showcase Display all with beautiful art made in her very own classroom."
Mrs. O'Leary added that Ms. Fiore has been facilitating the MPM Community Murals Mentor Program, for which she has solicited the assistance of a local artist to bridge the gap between the school and the community.
Principal Shawn Kelly introduced Mrs. Sue Tannler as Heritage Middle School's Governor's Educator of the Year. In his comments, Mr. Kelly noted that Mrs. Tannler demonstrates and shares her love of reading through HMS' largest co-curricular club, "Booked for Lunch!"
Mr. Kelly said, "As the HMS Library Media Specialist, she has spent the past few years in this role revolutionizing the space to include diverse texts from different genres that middle school students actually want to read! Moreover, she is an incredible collaborator with her colleagues who has worked to support every single department at HMS to be able to enhance the learning experiences that our staff are able to offer their students."
Livingston High School's Governor's Educator of the Year, Mr. Dave Mead, was introduced by principal Danielle Rosenzweig, who described Mr. Mead as someone who embodies the concept of a "lifelong learner." She also noted that during his 25 years as a member of the Lancer family, he has acted as a mentor, both officially and unofficially, to many staff members and student teachers, as he helps to instill confidence as they "learn the ropes" of the profession.
Ms. Rosenzweig said, "Mr. Mead is constantly seeking out new strategies to reach each learner in the classroom and is never satisfied until all students experience success. No matter what course he teaches, any time you walk into his classroom, you see Dave's passion for teaching and his ability to inspire his students to be their best selves."
Assistant Superintendent Lisa Capone-Steiger and Collins principal Michelle Cebula announced that Ms. Amanda Clayon was named the Livingston Educational Service Provider (ESP) of the Year. This honor goes to a member of the LPS staff who has made significant contributions to their school and the district.
"I feel incredibly privileged to introduce Amanda Clayton as the first member of the Child Study Team (CST) to receive this honor. And while she is in good company with the many prior ESP recipients, there is something very special to be said when a psychologist is honored in this way," said Mrs. Steiger. "Members of the CST are seen as a support for special education in their schools, but Amanda is that and so much more. Students, their parents and our district staff are so fortunate to have the support of Amanda each and every day. She has not only shared her talents in Collins, but with the district. Amanda readily volunteers, first, to help her colleagues across the district on a moment's notice. Whether she is asked to collaborate in finding a solution to a problem, work extra days in the summer, or contribute to district initiatives, Amanda is an open and invaluable member of our district team."
Mrs. Cebula added, "I have the privilege of seeing Amanda in action each day. Yes, she meets all of her professional responsibilities with grace, but what's most impressive about Amanda is her ability to connect and foster relationships with students. Amanda goes above and beyond each and every day. At any given hour Amanda can be found having lunch with student, delivering a Social Thinking lesson, or even finishing a special project that was needed for Mother's day! She does it all."