Return to Headlines
Grade 6: Pillars of Character
Lessons build on the equation: Character = Integrity + Courage.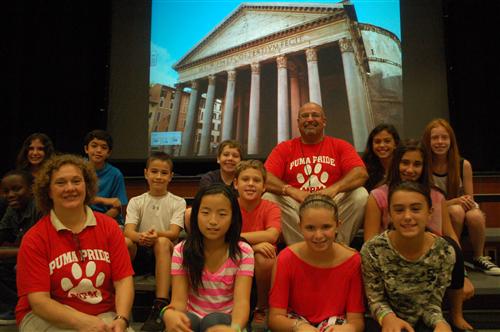 It will take awhile for students at Mt. Pleasant Middle School to successfully turn the tumblers on locks, but they're getting a jumpstart on unlocking the secrets of sixth grade with life lessons that go beyond textbooks.
In a character education program known as Puma Pride, teacher Aaron Fike and guidance counselor Wendy Walter shared with students on September 12 the core values of the school: caring, trustworthiness, respect, and responsibility.
"These pillars hold us up as people," Fike told the 475 students who make up this year's sixth-grade class.
Grade 6 is a big transition and MPMS strives to develop the whole child by developing academic and social and emotional skills, Walter said.
"I believe that the concept of knowing what is right (Integrity) is a great characteristic to have as a person," Fike said. "We want to encourage the action of doing and choosing to behave (Courage) that will support what we know. This is a tough concept for our sixth graders because as adolescents they are use to weighing their behaviors based on the punishment or consequences. Great character is demonstrated when Integrity and Courage combine to 'Stand up' for what is right regardless of consequence."
Six elementary schools feed into the stand-alone middle school and the first week saw these new students struggling with lockers and dropping books as they hurried to change class. The newness will fade as they participate in team building activities to promote communication skills, decision-making, problem solving, listening skills and time management.
They'll learn, at its simplest form, to stop and help a classmate with their lock or scattered books.
"We strive to develop the whole child by developing academic and social and emotional skills," said Walter. "Our character education program builds the foundation for strong character development. By instilling awareness of the characteristics of the four pillars and how the students can demonstrate them in their own lives, the students develop a stronger sense of self."