Return to Headlines
Growing Minds in the Not-So-Secret Garden

[ModuleInstance->Description]
You need at least version 7 of Flash player. Download latest version here!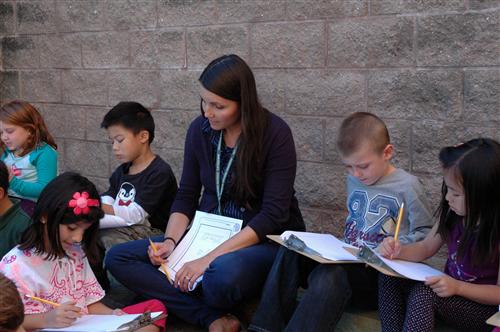 Tucked away under a room full of books is a Hillside garden for reading and writing. For the first graders who were the first to share their stories, it's already become a not-so-secret garden.


Teacher Jacqueline Kestler led her students to the outdoor classroom carved out by parent volunteers just a flight below the elementary school's media center.
On one of September's glorious afternoons, with the first hint of fall in the air and sunny skies, she read aloud, "I Like Myself," a story on self-esteem by Karen Beaumont. It provided the seed for the first graders to begin writing their own books, "I'm One of a Kind."


On paper and in whispers to partners, they shared their secrets about what makes them different. They learned, for instance, that their teacher enjoys camping. Some shared they liked their blue eyes -- and baby brother.


The Hillside PTA donated the money for landscaping, steps and mats for the Literacy Garden, said Christina Weiner, who served last year as the group's president. She painted with her daughters the colorful lettering for the garden spelling out the name of the school. 

DiIanni Landscaping and Ialeggio Contracting donated services. "The PTA was excited to use its resources to expand the learning space at Hillside," Weiner said.

What did the students think of their first lesson in the sun? "Actually, I loved it," said Leah. As her Hillside classmates climbed the steps back to the library, a little voice floated in the wind, "Bye-bye beautiful garden."