Return to Headlines
LHS Student Pioneers Cancer Research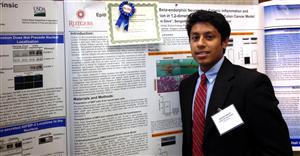 Ankush Rakhit, a Livingston High School student, is helping pioneer new research on cancer treatment, receiving along the way a prestigious award usually reserved for Rutgers University graduate students.
Working at the lab of Dipak K. Sarkar in the Animal Sciences Department at Rutgers, the LHS senior looked at novel treatments for colorectal cancer, the third most common form of cancer death in developed countries.
His research revealed that specific cell transplantation therapy holds a promising treatment strategic for cancer prevention in various cancer models. Specifically, Rakhit explained, he researched novel treatments for cancer that move away from direct removals of the tumors or long-term radiation or chemical therapies that today are the most common ways to rid the body of disease.
Finding a general, non-invasive treatment for cancer would seem to be one of the greatest challenges for modern scientists, Rakhit said.
The high school student and his Rutgers mentors took their work to the 6th Annual Pioneers in Endocrinology Workshop – for scientists interested in issues concerning endocrine and metabolic health, nutrition, neuroscience, and addiction. On display were posters reporting the state-of-the-art endocrine research being conducted at Rutgers.
All posters that had students as first authors were carefully reviewed by judges and three students received New Jersey Institute for Food, Nutrition and Health "Student Achievement Awards" in recognition of their excellence in research. The winners were Rutgers graduate students Meredith Camp (Endocrinology & Animal Biosciences; Bagnell lab) and Juliet Gotthardt (Nutritional Sciences; Campbell lab) -- and Rakhit, who worked in the Sarkar lab during the past two summers.
The precise title of his project is "Influence of Hypothalamic Beta-endorphin Neurons on Colonic Inflammation and Epithelial-Mesenchymal Transition in 1,2-dimethylhydrazine-Induced Colon Cancer Model."
That's quite a mouthful for a teenage researcher balancing this work with his academics at LHS and activities. Rakhit serves as president of both the Science National Honors Society and National Honors Society; captain of LHS Varsity Soccer; and is a highly ranked competitor in Debate and Forensics.
At Livingston High School, Rakhit began his science research under the tutelage of Dr. Nuni Walsh. "We've watched, encouraged, and tried to help guide him, but in actuality everything he has done is all his own motivation and grit. He's awesome," Walsh said.