Return to Headlines
[ModuleInstance->Description]
You need at least version 7 of Flash player. Download latest version here!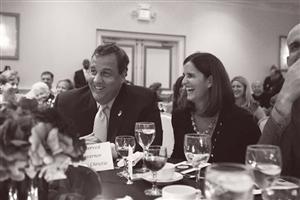 I suppose we know by now whatever happened to Chris Christie, LHS Class of 1980, a class officer and catcher for Lancer baseball. Every graduating class from Livingston High School, it seems, has at least one alumnus who becomes someone famous.
The Livingston Education Foundation (LEF) has honored these esteemed grads, this year Christie, New Jersey's governor, along with the White House press secretary for Michelle Obama, a Broadway star, and an elementary teacher who played a leading role in ushering world language to Livingston schools.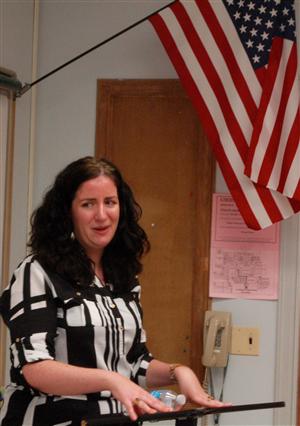 In class at LHS, you really never know who is sitting to your right or to your left.
Bringing these respected classmates back to LHS helps the LEF support innovations in teaching at Livingston Public Schools, with funds raised over the past four years improving technology in classrooms, including document cameras and LCD projectors.
It's also an opportunity for the alumni being honored to teach back their mastery.
That's what happened in classrooms on Friday, October 18 when Hannah August of the East Wing presided over AP Government and Politics, Nikki James of Book of Mormon sang with the chorus, and educator Ronnie Konner presented lessons on culture and change to students of world language.
"LHS gave me not just a well-rounded education, but it also gave me an openness to learning and a real thirst for new challenges," said August, whose White House duties include Mrs. Obama's Let's Move! campaign, a nationwide effort to tackle the challenge of childhood obesity.
Growing up in Livingston, August (class of 2001) recalled performing in some of the same plays as James, a Tony winner for best featured actress in a musical (Book of Mormon) with roles in two new films, Lucky Stiff and The Disappearance of Eleanor Rigby, and the just announced new production of Les Miserables, where she'll play Eponine.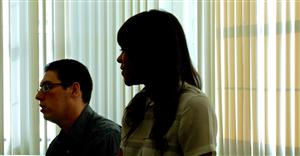 "I have no doubt in my mind that my success is based on a whole host of people here at LHS," said James (class of 1999). Joining the alto section, the Broadway star sang with students the school song, accompanied by another former classmate, the LHS vocal music teacher Joshua Salzman.
During the evening gala, the Livingston Education Foundation bestowed Leadership in Educational Achievement and Dedication awards to John Hopton, former principal of Burnet Hill and Mt. Pleasant Elementary schools; and Barbara Tamburro, who served as the district's string teacher and orchestral conductor and who was instrumental in growing the music program in the district.
Tamburro's legacy was featured during the reception with members of the LHS Orchestra performing baroque music selections at the Wilshire Grand Hotel. The young musicians themselves had the honor of meeting the governor, their photograph among the scores taken with Christie.
"You cannot divide me and this town in terms of who I am and what I've become," Christie told the 150 guests, who included some other famous alums, including the author Harlan Coben. "There is no chance if I hadn't grown up in this town and went to this high school that I'd be standing up here as governor."
The recognition for a life well led is appreciated by the LHS graduates who are honored. A few days after the Hall of Fame ceremony, Konner (class of 1966) was helping students form a giant happy face for a photo op of the entire Burnet Hill community. "I'm still in heaven," she said.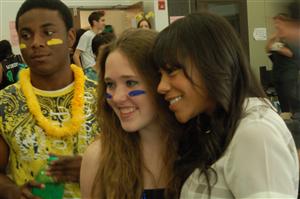 But after music class, it was clear that current students were the ones with stars in their eyes. Rushing up to ask for photos with the Broadway actress, James was happy to oblige. "As long as we're not late for class," she said. "I can't write you a note."
Photos by Martha Ackermann, Jodi Rothfeld, Marilyn Lehren
See more photos by Jodi Rothfeld on the LEF website by clicking here.
The LEF gratefully acknowledges LHS art teacher Arlene Brown and her student photographers Danielle Berk, Ivana Chu, Christine Park, Amanda Sawaka and Madison Tobin for also sharing their photos. See the students' work by clicking
here.
Learn more about the Livingston Education Foundation by clicking
here.