Return to Headlines
Halloween Fun for All Ages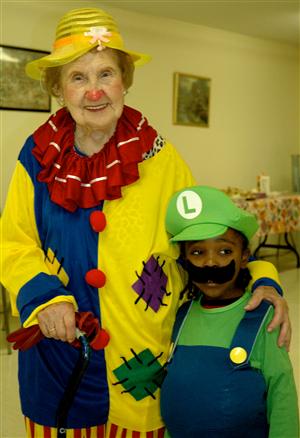 With the Halloween forecast cloudy, with a chance of candy, there was no rest for the eerie, the beauties and the beasts, from age 5 to 104.
It turns out you'll never too old to clown around on Halloween.
Halloween was back in Livingston – no blizzard, no hurricane, just a few showers, and even that failed to rain on the parades of school children eager to show off their colorful costumes.
Kindergarteners from Collins shared their (not-so-scary) songs and snacks with seniors at Cedar Street Commons. The school has a long tradition of visiting the senior citizens who live in the apartments, an intergenerational experience they all treasure, especially the vibrant 104-year-old Helen Wrubel who dressed as a clown.
The children missed the visit last year because of a Frankenstorm named Sandy, so the program was extra special this year, with traditional songs of the season like "Five Little Pumpkins" and "I've Been Working on My Costume."
It seemed like the children had indeed been working on what they would wear. There was everything from firefighters, to princesses, pirates and witches stirring their brew.
"Where's my doctor?" one of the senior citizens joked.
Actually, there were two.
The children, pretending to be young Frankenstein monsters, their arms out in classic horror movie pose, sang, "We're here to scare you."
"You did!" a senior replied.
See a slide show of photos by clicking here.