Return to Headlines
LHS Writer is Selected for YoungArts Week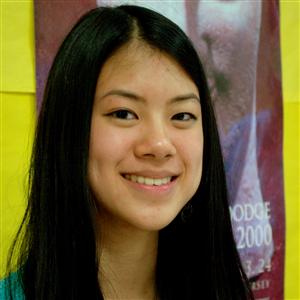 Christina Qiu is following in the footsteps of writers Jhumpa Lahiri and Amy Tan in exploring in Asian-American literature the issues of race, culture and national identity.
Qiu, a Livingston High School junior, is the author of several short stories and poems, two of which were signaled out by the national YoungArts program, which is designed to support young artists at a critical juncture in their lives and encourage their decision to pursue a career in the arts.
After debating whether to even submit her work
–
"it seemed too intense and prestigious" – Qiu will now be traveling to Miami in January to participate in National YoungArts Week. She was selected to join about 160
–
out of a field of 10,000 applicants
–
of the nation's top young artists in the visual, literary and performing arts.
Qiu has been writing "for fun" since seventh grade, serious enough to have a writing buddy and to meet with other aspiring writers at LHS in a club called "Shakespeare and Company."
The stories awarded by YoungArts, "The Miseducation of We" and "Lucy at Home," look at Qiu's own identity as an Asian American, a theme the teenage writer felt compelled to research and reflect upon.
The writing has "allowed me to explore my identity, who I am, who my people are, and my own personal definition of American," she said.
"The Miseducation of We," for example, is a story that was born from many anecdotes from other Asian Americans who live in places without a lot of cultural support, places that are very different from Livingston, Qiu said. "In U.S. (classrooms) history is told in black and white. I wanted to know, where do I fit in?"
Although the writer said she has had some sort of identity awakening, the anecdotes do not mirror her own personal experience. "It is an amplification and example of some of my feelings toward my identity, but, just like my other story, it is merely a narrative illustration of my sociopolitical viewpoints, not at all influenced by my personal experiences in Livingston," she said.
The second story, "Lucy at Home" centers on the Vietnam War and is told from the Chinese American perspective. It was inspired by a documentary, "Lucy Comes Home," and further influenced by writer Tim O'Brien.
At LHS, Qiu has contributed to the school's literary and art magazine, Inner Voices. She is close to her sister Jeanna, a cello player. Together, they placed first for debating the technological issues of social media at the National Technology Student Association (TSA) Competition held in Florida last summer.
Qiu, whose interests run from music (she plays the piano) to science and math, has no plans to put down her pen. "There are a lot of important things that need to be said."