Return to Headlines
Artists Paint a Dr. Seuss Gallery at Hospital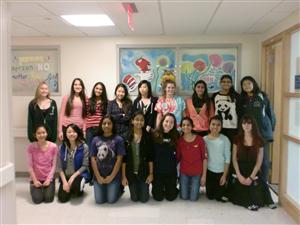 The National Art Honor Society at LHS painted cheerful Dr. Seuss-inspired windows at the Neonatal wing of the Saint Barnabas Medical Center in Livingston as part of their community service projects for the holiday season. 

Nearly 50 students participated in the painting over two days on Dec. 14 and Dec. 15.
"The students get a lot of satisfaction contributing to the community in this artistic manner," said teacher Linda Majzner. "The hospital was thrilled with the outcome and the parents who visit their babies at the Neonatal wing are very encouraged and cheered when looking at these windows."
The students also earn points of community service toward their induction into the National Art Honor Society. That will take place at the high school on May 22 along with an auction of student artwork.


Students participating were Amna Abbasi, Nikita Agarwal, Sibyl Ambazhachalil, Dani Berk, Tami Chalam, Yongyi Chen, Perri Concepcion, Elana Cooper, Adina Cosden, Nina Feinberg, Amy Feng, Corinne Ferman, Alexa Gilbert, Joanie Gilliland, Nimisha Govind, Stephanie Halaban, Natalie Kahn, Rachel Katz, Brian Kim, Danielle Kraft, Monica Kurowski, Vivie Lee, Kristin Leechow, Jayne Linn, Christina Manubag, Kanchan Misra, Briana Montzen, Veda Nambi, Jessy Nangini, Samantha Ngan, Sora Nithikasem, Hao Pang, Kajal Patel, Wendy Peng, Christina Preziosi, Popper Rebecca, Samantha Rispoli, Michael Toomey, Raina Vettithanam, Kim Villone, Mailissa Vuong, Mayer Wang, Angelie Yap, Karen Yu, Sheba Yu, Theresa Zhang, and Matilda Zhuang.