Return to Headlines
Sydney Becker, a Livingston High School sophomore, wrote this article for Livingston Public Schools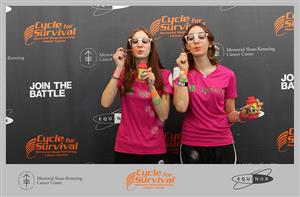 This winter, I'll be joining 16,000 riders in 13 cities raising money with Cycle for Survival. As a cancer survivor, the event is personal on many levels, but I've been touched to see how this nationwide effort to fight rare cancers has resonated at a very local level with teachers at Livingston schools and members of our community.
Many of these riders participate in memory of Jennifer Goodman Linn, who grew up in Livingston and founded Cycle for Survival with her husband David Linn after she was diagnosed with a rare sarcoma. Jennifer was shocked when doctors told her they didn't know how to proceed with her treatment. Her research found little funding going to the underdog cancers, and also few charities that supported these cancers specifically.
Cycle for Survival has helped put a positive spin on research and treatment, raising nearly $33 million since 2007.
Although Jennifer and I met only once before she died in 2011, I felt as though I knew her on a much more personal level. Not because of the few emails we sent back and forth about enduring illness, but because of the touching words and stories that her friends and family told about her.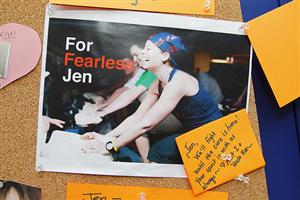 There were so many people who had such beautiful things to say about her, such as her high school friend Jeanne Silberman who told me Jennifer "had a huge smile and huge dreams."
As soon as I met Jennifer in person, I was able to finally see it for myself. She came to visit me in the playroom of the pediatric ward at Memorial Sloan-Kettering while I was receiving my chemotherapy infusion for bone cancer. Once Jennifer entered the room, she brought it to life. Her bright smile and vivid aura was enough to even make my chemotherapy treatments suddenly not seem so painful. She told my mother and I a little about how she had been coping, and we talked as cancer patient to cancer patient.
I figured, if she can keep such a positive smile while undergoing worse things than I am, then I can keep a positive smile too.
Jennifer's spirit and 110 percent attitude laid the foundation for what Cycle For Survival is about, and helped the charity get to the level of success that it is at today.
Cycle For Survival gives 100 percent of every dollar raised directly to rare cancer research at Memorial Sloan-Kettering Cancer Center in Manhattan. More than half of people diagnosed with cancer are diagnosed with a form of rare cancer.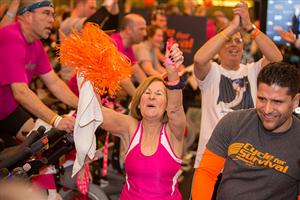 The money raised from Cycle For Survival has funded 85 clinical trials and research studies so far. The funding has also helped to reduce the amount of time it takes for these trials to reach patients.
Since 2011 at Livingston's first satellite event, teachers have been involved by riding on teams to support the cause.
A year after my diagnosis and treatment, I was walking around the room to see if there was anyone there that I knew. In the back of the room, I spotted my kindergarten teacher riding alongside her friends. I was astounded that eight years after I left her classroom, we reunited at an event that my family and I are so passionate about. It was so encouraging that the woman who supported me as I began my academic career was supporting me again at Cycle for Survival.
Today, Cycle for Survival is the fastest growing athletic fundraiser in the country, and the Livingston event has grown to become the official New Jersey fundraiser at Equinox gym in Summit. There will be dozens of teams participating on February 8, including those same teachers who have joined in the efforts three years ago. In the coming weeks, the team members will work to solicit donations from friends, family, coworkers and more.
There's still time to join Cycle for Survival on February 8 in New Jersey. If you are interested in getting involved, you can start your own team and invite family, friends, and coworkers to be a part of it. You may also be able to join an existing team and help them raise funds.
And of course, you can contribute with a donation to a specific team or a general donation to Cycle For Survival. Learn more by clicking
here
.
Sydney Becker is a sophomore at Livingston High School. She chronicled her fight and recovery while in middle school in a blog on CaringBridge.org