Return to Headlines
British Invasion in the LHS Gym
A surprise visit by pop stars is the reward for students who commit to Do Something.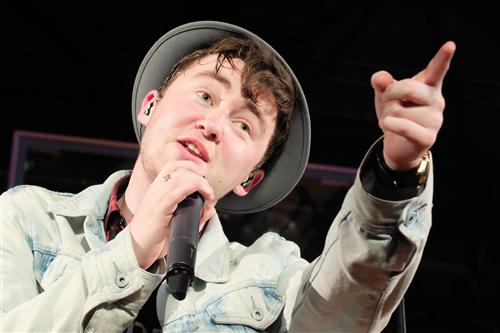 The Do Something Club at Livingston High School has logged dozens of community service hours collecting food for the hungry, cheering the elderly, spreading peanut butter sandwiches for the homeless, educating on autism and sexual violence. In fact, their efforts to do something so often earned them the top prize and a chance by radio station Z100 New York to offer their best Do Something yet at LHS.
After school on Friday, May 30, students lined up for Do Something Club's season finale: Presenting the up and coming British band Rixton performing live in a free concert for LHS students.
Teens lined up outside the Fitness and Wellness Center, while the band loosened up by kicking a ball around on the Lancer turf. They've been heating up the charts with their debut single, "Me And My Broken Heart," been seen on American TV, and are about to head off on a summer US tour.

Rixton initially found fame thanks to their viral YouTube covers of Katy Perry and Taylor Swift songs, and they're being introduced to America by pop radio stations like Z100 New York. Radio personality Maxwell was on hand to MC the event with the hashtag #ZandRixtonAtLHS.
F
andom reigned in the gym with girls screaming for the photogenic UK foursome and their harmonies and reggae-inflected beat of the hit single charming new listeners.
"You dream of trying to crack America," leader singer Jake Roche said in an interview after the show filmed by students from the LHS television station.

It may take some more doing by teens like those involved in the Do Something Club, but Rixton may just be the next big thing.
Story and photos by Marilyn Joyce Lehren