Help Us Stuff the Bus for Sandy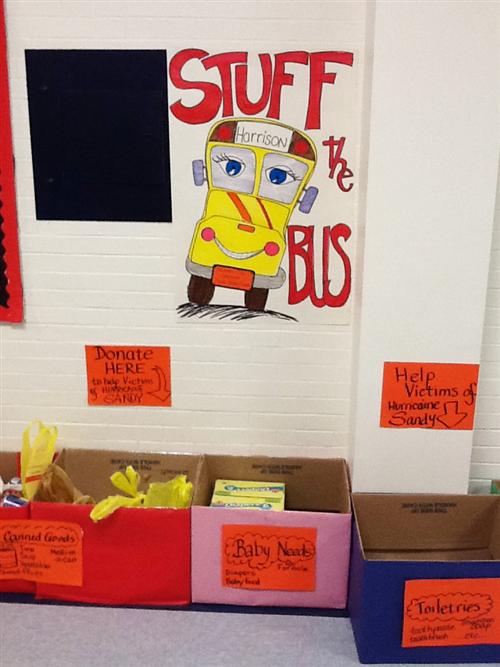 Large numbers of storm victims remain without power, heat, or a roof over their heads since Hurricane Sandy hit New Jersey. There have been countless acts of kindness and support, and efforts are now underway In Livingston to help Sandy-ravaged communities.
Livingston schools are partners in a town-wide effort to Stuff the Bus for Sandy. Livingston Public Schools has partnered with the Township, St. Philomena's Parish, Newark Academy and Kushner Academy to "adopt" the towns of Ventnor and Atlantic City, South Jersey communities hard hit by the storm.
Chris Bickel, K-8 Social Studies Supervisor for Livingston Township, and a member of the town's Food Day committee, grew up in Ventnor where he enjoyed the beach community for many of the same things we all love about the Jersey Shore. It was relaxed and fun but he also enjoyed a strong sense of community. When his family fell on hard times, Chris saw the people of Ventnor lend a hand to help him and his nine siblings with meals, clothing and shelter. Now, more than 20 years later, Chris' current community of Livingston will do the same thing for Ventnor and Atlantic City.
Students and families are asked to donate requested items in bins set up at each school. Students will help Stuff the Bus on Friday, November 30, with delivery the next day to our "adopted" communities.
STUFF THE BUS FOR SANDY ITEMS
❏ Meals In A Can
❏ Canned Tuna
❏ Peanut Butter
❏ Granola Bars
❏ Canned Fruits
❏ Canned Vegetables
❏ Canned Soup
❏ Shelf Stable Milk
❏ Cereal
❏ Diapers
❏ Baby Food and formula
❏ Laundry detergent, soap, diapers, toilet paper, shampoo, toothpaste and other personal hygiene products.
❏ Cleaning supplies