LPS Sends Preliminary School Construction Plans to State for Approval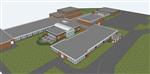 Livingston Public Schools is exploring ways to make room for a projected hike in enrollment and plans to educate more special education students in-district. As part of the process, preliminary plans have been sent to the state, seeking approval for classrooms and media centers at Livingston's elementary schools.
The preliminary plans were approved unanimously by the Board of Education on Monday, November 12. The vote followed presentations last month on the long-term facility needs and options to add 14 classrooms and three media centers.
The next step in the process is approval of the preliminary concepts by the state Department of Education (DOE).
Construction is being considered because the elementary schools are near or above capacity.
Hillside, Burnet Hill and Collins elementary schools currently have the highest 100 percent capacity usage with special teachers sharing rooms, according to room capacity and usage data presented by Superintendent Dr. Brad Draeger.
In order to increase classroom availability, the plans is to to add media centers at Collins, Harrison and Riker Hill, where aging facilities do not support technology and covert the current media centers into additional classrooms.
Also approved were additions to Burnet Hill and Hillside.
If the DOE approves the projects, the Livingston Board of Education may decide to hold a public referendum to seek approval of funding to improve school facilities.
The construction being considered also includes ADA-required renovations at Livingston High School, including handicapped accessibility for restrooms, sinks and ramps.
The Board Presentations are available for review on the LPS website by clicking here
.