LHS Theatre Presents 'Sherlock'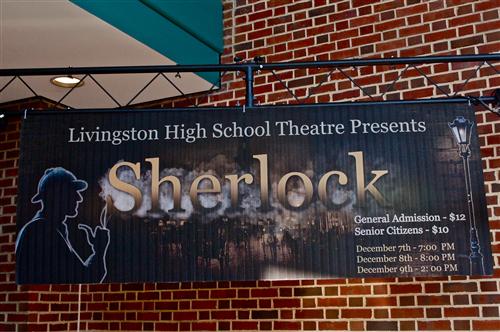 Livingston High School Theatre will present its fall drama, an adventure this weekend with the renowned detective Sherlock Holmes and his assistant Dr. John Watson.

The results, are of course, Elementary!

Sherlock performances will be 7 p.m. Friday, December 7; 8 p.m. Saturday, December 8; and 2 p.m. Sunday, December 9 in the Livingston High School auditorium.

The cast features Jordan Cohen as Holmes, Josh Young as Watson, and John Lanigan of Mortiarty. Also featured are Megan Foley, Natalie Khan, Jared Aronoff, Abi Simko, Kerry Zak, Rachael Richard, Sam Thor, Marika Krupitsky, Natalie Khan, Ethan Gallant, Louise Ehlers, Grace Shin, Adia Duati, Priyanka Nachane, Jordan Wagner, and Emily Smith.

Janet Storti directs this talented cast and crew through mystery, romance, action, danger and laughter.
Tim Cece is serving as production manager. Also credited with behind-the-scenes expertise is Samantha Brown, stage manager; Josh Ringler, technical manager; Zach Gartenhaus, lighting designer; Samantha Cetrulo, sound designer; and Brian Megaro, technical director.
The cost is $12 general admission; $10 seniors.