So What Happened to All Those Donations?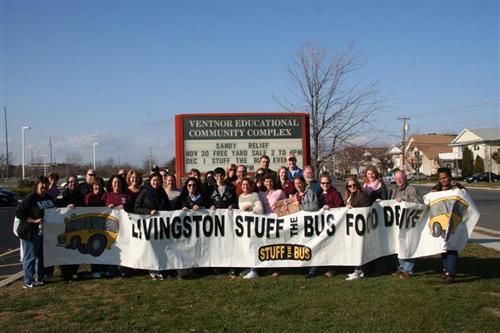 Did you really think two yellow school buses stuffed with supplies could slip into Sandy-ravaged South Jersey unnoticed?
With the buses packed with collections from every school and every corner of Livingston, Stuff the Bus caught the attention of television news crews and our own local reporters who traveled to Ventnor with volunteers on December 1.
"This is like an amazing movement," rejoiced one of the residents of Ventnor, where the donations were delivered.
NBC's South Jersey affiliate
aired a story
, filming the un-stuffing of the buses assembly-line style.
"It was very nice to know we are still loved by these people. It's great because we didn't know what to do. We didn't know where to get help," Ventnor resident Marisol Taeia told the television crew.
Chris Bickel, who works for Livingston Public Schools as the District's Supervisor of Social Studies, helped coordinate the efforts, choosing a community that reached out to help him when he was in need as a teen. He was joined by a dedicated group of volunteers.
"It was really great to help out and see people who needed things get what they needed," said Spencer Silverman, a Livingston High School student who joined the bus to Ventnor.
The Livingston and Ventnor school districts collaborated to put together the event, and about 90 percent of the teachers who work in Ventnor schools came to help out, despite most living in other cities.
"We get to see firsthand the effect on the kids," said Mark Boothby, President of the Ventnor City Educational Association. "We see personally some kids who used to be outgoing and boisterous, and those kids have taken on a more introverted and reserved personality. The impact of this storm has affected these kids dramatically."
Organizers, who put in countless hours to put together this event, told Livingston Patch the payoff was well worth it. Added Alan Karpas, "I don't know what to say, other than this was one of the most rewarding experiences of my life."
Thank you to Martha Ackermann who shares her photos of the Stuff the Bus trip down South.Read more about the efforts in The West Essex Tribune and online @
[ModuleInstance->Description]
You need at least version 7 of Flash player. Download latest version here!