Solutions from Would-Be Engineers
[ModuleInstance->Description]
You need at least version 7 of Flash player. Download latest version here!
Heritage Middle School's FemGineers, the school's all-female engineering club, came up with designs to combat storm water runoff for the New Jersey Regional Future City Design Challenge held Jan. 12 at Rutgers University.
Each year the Future City competition challenges middle school students to put their science, technology, engineering and math skills to work by presenting them with an engineering problem to solve. The students must research the problem, devise a solution and build a scale model of their design using recycled materials, which they present at the competition.
The theme of this year's contest was, "Rethink Runoff: Design Clean Solution to Manage Stormwater Pollution."
Continue reading an article in The Star Ledger by clicking
here
.
The students worked countless hours through the fall and over the holidays using SimCity software; researching and writing solutions to an engineering problem; and building tabletop scale models. 
 
At the New Jersey Regional Future City Design Challenge, 81 teams from 50 schools participated in the events.
Heritage's results of the competition are as follows: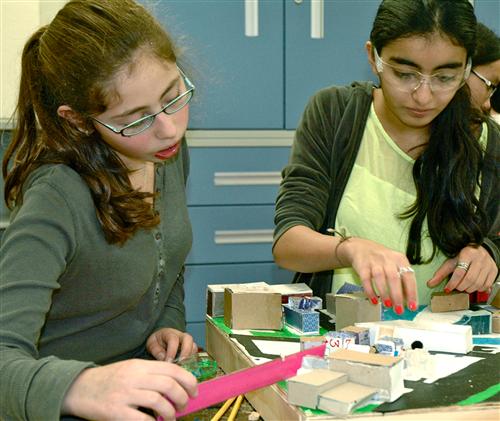 Nerocity: Jackie Gelman, Sophie Kushner and Arya Mirchandani won 3rd place overall. They were awarded a $1,000 grant for HMS, Kindle Fires, and 3rd place medals.


Venicity: Stephanie Tam, Wendy Xia, and Annie Song won "Most Sustainable City" and were awarded tickets to the Adventure Aquarium.


Hydropilia: Tiffany Yu, Virginia Cheng and Alicia Cheung won "Best Transportation System" and were awarded a field trip to an NJ Department of Transportation facility and Dunkin Donuts gift cards.


Aquavated: Grace Lin, Tina Wu and Vivian Xia won "Best Planning Practices" and were awarded Itunes gift cards.

The FemGineers was created by teacher Kenneth Zushma to encourage Heritage girls in STEM (science, technology, engineering, mathematics) related fields.
Gender inequity has been a growing subject in America's schools. This is most evident in science, technology, engineering, and mathematics (STEM) fields. But the FemGineers has helped provide a solution to the gender inequity in mathematics and science classes. The number of FemGineers has jumped 500 percent. A teenage girl in Livingston is not only encouraged to take the higher level mathematics and science classes when they get to high school, but they know they will be in class with other like-minded females. 


Recent research demonstrates that the range of female enrollment in the comprehensive and comparable schools in New Jersey ranged from 12 percent to 28 percent with Livingston near the top of the list, with 26.1 percent enrolled in technology classes.