Return to Headlines
At Cycle for Survival, Kindness and Respect
[ModuleInstance->Description]
You need at least version 7 of Flash player. Download latest version here!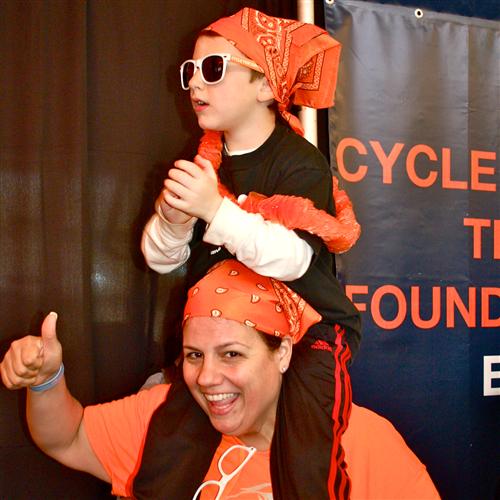 Teachers, principals and parents rode side-by-side on bicycles built for fitness to raise thousands and thousands of dollars to help doctors find cures for rare cancers.
The riders representing Livingston Public Schools raised nearly $60,000. Altogether, with teens and other Livingston groups participating – more than 1,000 riders overall -- about $800,000 was raised by Cycle for Survival New Jersey on Sunday, February 24 at the Equinox Summit.
Many of the riders had personal reasons to ride, their lives as well touched by cancer. The event has been continued and inspired in memory of Jennifer Goodman Linn, an '89 LHS graduate who founded Cycle for Survival while battling a rare cancer.
Livingston educators have participated in the event over the past several years. The local event has been coordinated by Linn's parents, Sandy and Len Goodman, Jeff and Amy Becker, Jeanne Silberman, and Collins kindergarten teacher Greer Gelman.
Cycle for Survival 2013 has already raised more than $11 million at events throughout the country in February and March. Every penny goes to pioneering rare cancer research at Memorial Sloan-Kettering Cancer Center.
"One of our students came up to me at the gym and said, 'K and R' [a short form for the Collin's motto: kindness and respect]. I thought that this was pretty profound as the entire day was about kindness to others," observed Collins Principal John Leister.
Learn more about Cycle for Survival by clicking here.
Photos by Martha Ackermann, Jeanne Silberman and Marilyn Joyce Lehren.