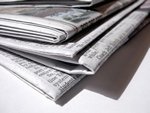 LEF Announces Hall of Fame Honorees
June 17, 2014 - Livingston, NJ –The celebratory atmosphere of naming proclamation recipients and recognizing outstanding teachers and staff at the Retirement Ceremony that took place at the June 16, Livingston Board of Education Meeting created the perfect venue for Livingston Education Foundation (LEF) members to announce the names of the distinguished alumni and exceptional educators who will be honored during the Fifth Annual Homecoming Hall of Fame to take place in October 2014. The achievements of the Hall of Fame and LEAD honorees, like those recognized at the Board of Education Meeting, also began in the hallways and classrooms of the Livingston Public Schools.
On Friday, October 10, 2014, LEF will recognize four Livingston High School Hall of Fame alumni and two LEAD Award recipients who will visit students in the morning and then be honored at a Reception to be held from 3:30 p.m. to 7:00 p.m. at The Wilshire Grand Caterers in West Orange. It is open to the public, reservations required. The Homecoming Football Game will follow on the LHS home turf at 7:00 p.m.
"The selection process for Hall of Fame is not easy. One just needs to Google Livingston High School on the internet and lists of accomplished graduates appear," said, Heidi Cislo, President of LEF. "But beyond that, we are grateful to the folks who contacted the Hall of Fame Committee directly, took the time to fill-out forms and talk to us about the candidates they nominated. Each nominee was considered with great respect and their names will remain in our folders as we move beyond 2014."
This year's LHS Hall of Fame honorees are: Dr. Shiva Ayyadurai, class of 1981, the inventor of EMAIL. He started working on that project when he was 14 years old and still attending LHS. He is a scientist, technologist, entrepreneur, author and educator. Dr. Ayyadurai earned four degrees at MIT spanning the fields of Electrical Engineering, Computer Science, media arts & sciences, applied mechanics and systems biology. He is a Fulbright Scholar, Lemelson-MIT Award Finalist, and First Outstanding/Scientist Technologist of Indian Origin. Among his many accomplishments, he is the Founder of Innovations Corps, a nonprofit, CytoSolve, Inc., General Interactive, LLC and Board Member of EchoMail, Inc., and Enterprise Email Management. He was recently named to receive the President's National Medal of Technology and Innovation for 2014; Charles Bendit, class of 1971, is a real estate investment developer and Co-CEO of Taconic Investment Partners. He formed CBC Properties. Mr. Bendit is actively involved in the education community serving as a Regent of the New York State Board of Education and on the Board of PENCIL, a leading education nonprofit facilitating relationships between business leaders and public schools; Laurence Fieber, class of 1968 is widely recognized as a highly accomplished visionary New Jersey educational leader who embraces change and challenge. He is the Executive Director for the Center for Future Educators at The College of New Jersey and State Director of the New Jersey Future Educators Association; and, Dr. Suzanne Steinbaum, class of 1986, is an attending cardiologist and Director of Women's Heart Health at Lenox Hill Hospital-Northshore-LIJ Healthcare System. She is the host of Focus onHeatlh (WLNYTV), a National Spokesperson for Go Red for Women Campaign and author of Dr. Suzanne Steinbaum's Heart Book: Every Woman's Guide to a Heart Healthy Life. She most recently made New York Magazine's Top Doctor List 2014 for cardiovascular disease.
For each of our Livingston High School graduates, there have been talented educators who have served to guide them to achieve. In recognition of a lifetime of service to creating successful educational opportunities for the students of the Livingston Public Schools, the LEAD (Leadership in Educational Achievement and Dedication) Award Recipients are: Jim Ransegnola, who served as an educator in Livingston Public Schools for 40 years. He is remembered by students and colleagues alike as an outstanding teacher, Department Chair and K-12 District Supervisor for Social Studies: and, Don Schwartz, who served as an Industrial Arts/Technology educator for 31 years. He was a class supervisor for 12 years and boasts two Conference Championships as Golf Coach from 1986-1999. He is widely known as the "Voice of the Lancers" having served as broadcaster on TV-34 and LTV. He has photographed over 3,500 Livingston High School and community events since 1980 until the present. He continues to work with both the LANCERS and the Township as a broadcaster and a photographer. Mr. Schwartz was named Citizen of the Year by both the Township of Livingston and UNICO, has been inducted into the Big "L" Athletic Hall of Fame and honored by the Essex County Athletic Director's Association (ECADA), National Football Foundation (NFF) and College Hall of Fame (CHOF), the VFW and the ELKS.
"We look forward to hosting our alumni as well as the school community and broader community at the Friday, October 10 Hall of Fame Reception," said Amy Saffer, Co-chair of the Hall of Fame Committee and past Hall of Fame recipient. To keep up with the latest information follow Livingston Education Foundation on Facebook and Twitter (@LEF_Livingston) and go to the LEF website www.livingston.org/lef for upcoming event and membership news. Proceeds from the Homecoming and Hall of Fame events will go to enhance excellence in education for students in the Livingston Public Schools.