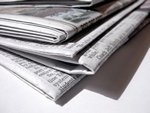 LHS Hall of Fame: "Non-Existent Standards for GMO Safety and What That Means to All of Us"

OPEN TO THE PUBLIC: Monday, December 21, 7p.m.: Livingston High School to host a forum: "Non-Existent Standards for GMO Safety and What That Means to All of Us" to discuss genetically modified organisms (GMOs) as a 21st century global health issue; to debate the current state of safety standards for GMOs and Dr. V.A. Shiva Ayyadurai's, (LHS '81; Hall of Fame 2014) unprecedented, multi-million dollar challenge to the Monsanto company, one of the world's largest producers of GMOs. Ayyadurai is offering his Cambridge, MA, $10 million building to Monsanto if they can prove the existence of safety assessment standards for GMOs.
The forum will include a summary of four peer reviewed scientific papers generated from a mentorship collaboration initiated by LEF during the Hall of Fame Activities 2014 between one of Dr. Ayyadurai's companies, CytoSolve and the LHS Science Research Program. Four LHS students will present the findings on the first of the four papers ("Discovery of Key Molecular Pathways of C1 Metabolism and Formaldehyde Detoxification in Maize through a Systematic Bioinformatics Literature Review" on which they and Science Research teacher, Brian Carey received co-author credit along with Prabhakar Deonikar, Santhiya Kothandaram, Mrudhuula Mohan, and V. A. S. Ayyadurai (all of the International Center for Integrative Systems, Cambridge, MA). Dr. Ayyadurai and Dr. Deonikar will present the findings on the following three papers. (Click
here
to read all papers). LHS Principal, Mark Stern, will serve as the forum facilitator.
Creating an environment for this unique experience, giving our high school students the opportunity to present their work not only as part of a prestigious learning community, but to see how it formed the basis for further science research that has initiated public debate and, hopefully, informs future policy-making is what makes Livingston Public Schools extraordinary and the Township of Livingston an outstanding place to raise and educate our children. We hope that you will join us at LHS on December 21.
Please join the LEF FB page to keep up on Foundation happenings!
Peer review papers:
http://www.integrativesystems.org/systems-biology-of-gmos/
LPS story
from May on the LHS Students