Return to Headlines
HMS Quizbowl Teams Compete at Nationals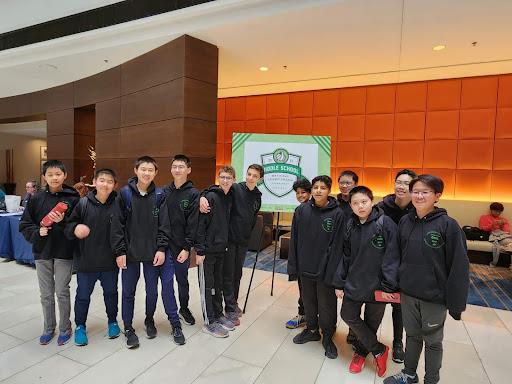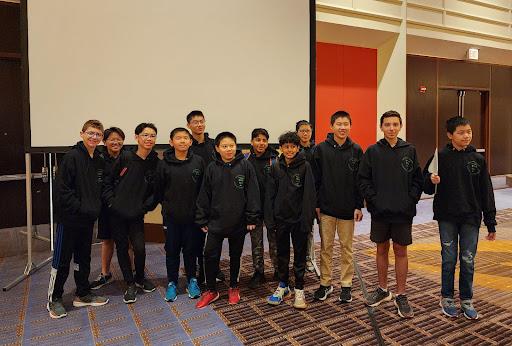 By Luke Zhang
On Saturday and Sunday, May 13 and 14, two Heritage Middle School Quizbowl teams attended the Middle School National Championship Tournament (MSNCT) hosted in Chicago, or Quizbowl Nationals. Both teams performed well and brought recognition to Heritage Middle School amongst the 160 teams.
The full roster for the tournament includes the following on the A-team: Ethan Zhang (Captain and Club President), Kenneth Wu, Connor Li, Luke Zhang, Max Silversten, and Hadrian Zheng. The following were on the B-team: Hubert Zheng (Captain of Team B), Rishi Shah, Jasper Cheng, Samuel Wasserstein, Derek Peng, and Neel Gupta.
The Heritage A team and B team both qualified for Nationals after months of preparation and hard work. The two teams attended numerous tournaments, often finishing just outside qualification to MSNCT, but eventually qualified for Nationals. The A team finished at a respectable 61st out of 160 teams. The B team placed 116th. As both teams only had players who have never gone to this tournament before, it was a good performance.
"For the first time at a nationals tournament, we did great," said 7th grade A-team member Hadrian Zheng, who also won 7th place in the 'Rising Stars' section (best non-8th grade players).
"I'm just proud of the team and how we played. We can still do better next time, but this was a great performance," said 8th grader Ethan Zhang, captain of the A-team and president of the Quizbowl club.
"Even though we didn't win, we played hard until the end, and most importantly we worked together to do the best we possibly could," said 8th grader and B-team member Samuel Wasserstein.
"We bonded as a team," said 8th grader and B-team member Rishi Shah.
Seventh grader and A-team member Max Silversten said, "Even when we knew we were eliminated, we kept playing hard."
The performance of both teams shows how hard the players have been working, practicing packets, reading toss-ups, reading books, and absorbing knowledge since they set their sights on this tournament. Their performance also shows just how much the members have improved and matured, organizing fundraisers to cover costly fees.
"I've seen these kids work insanely hard over the course of this year to become the best players they can be," said HMS Quizbowl Club founder and coach Robert Wang. "I look forward to seeing them all become even better players next year and to absolutely smash the 2024 championships."