Return to Headlines
FBLA National Leadership Conference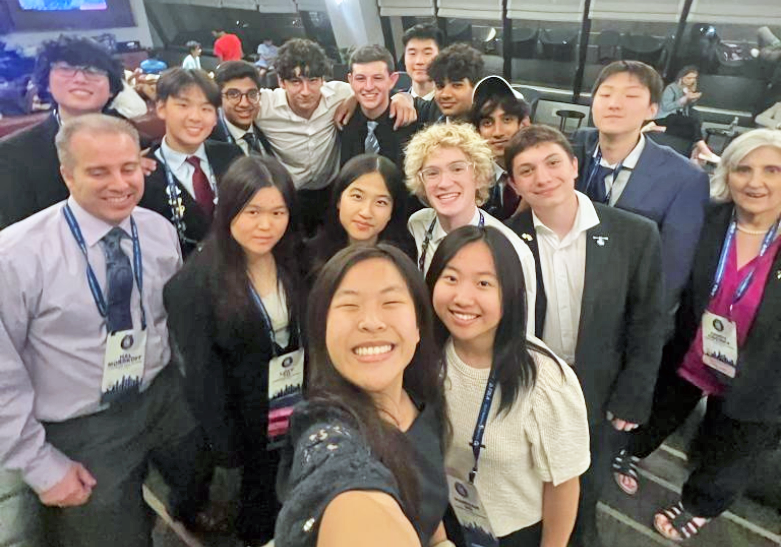 From June 26th to July 1st, 15 Livingston High School (LHS) students competed at the Future Business Leaders of America (FBLA) National Leadership Conference at the Georgia World Congress Center after qualifying through the New Jersey FBLA State Leadership Conference earlier this March.
For an entire week, LHS students engaged in various workshops hosted by professionals to broaden their knowledge of the business world, competed in a wide range of testing and presentational competitive events, and networked with students traveling from as far as China and Tanzania.
In one of the many workshops hosted at the conference titled, "The Senior Sprint: Finishing Strong and Moving Forward," national FBLA officers and recent graduates Noah Killeen and Krisha Patel provided their insight to incoming high school seniors on the college admissions process. LHS students learned of important tips for time management, studying, and college applications.
Furthermore, National President Aarav Dagar and National Treasurer Noah Killeen hosted a show in which FBLA members shared their many unique talents across numerous fields, such as performing heartfelt songs from "The Little Mermaid," competing in impromptu speaking challenges, and even participating in debate competitions with incoming National President Deborah Jacklin. The workshop nevertheless effectively fostered presentational, speaking, and leadership skills among its attendees.
Finally, in a workshop titled, "Life as a Litigator," senior deputy prosecuting attorney Trisha Johnson, who specializes in homicide and drug trafficking, shared her experiences as a lawyer in criminal justice, solving real-life murder mysteries. From showing real jail phone calls to photographic evidence, workshop attendees were truly able to immerse themselves in the life of a litigator. Through her expertise, students learned the art of negotiating and the importance of public speaking, both vital in the business workplace.
In addition to attending workshops, students were able to receive certification through the MBA Research-sponsored A*S*K Ethics Fundamentals Test, an assessment that prepares rising business leaders to respond to workplace scenarios unteachable in classrooms. Of the LHS delegation, 11 students were certified, and Aditya Agrawal, Joanna Liu, Eric Niu, Sebastian Volante, Lucy Yu, and Kevin Zhang achieved "Advanced" status. These students will receive a digital badge for their achievement, which can be used to illustrate their ethical leadership in resumes and profiles.
Among the diverse activities within FBLA, students had the opportunity to build deep connections with other chapters through the unique FBLA NLC tradition of trading state pins. Each LHS student was given six NJ pins to trade away for other state pins, allowing competitors to exercise negotiation skills in a creative way. The highly sought after "China Pin" and "Tanzania Pin" were obtained by several of the LHS students.
Five LHS students were recognized for their achievements in their respective events at the Awards Ceremony on Friday night.
Rising senior William Wang was declared the national champion in Business Calculations, a 100-question objective test that assesses high-school students on their knowledge of taxes, revenues, liabilities, and other business financials.
Furthermore, rising senior Andrew Tesoriero placed 3rd in Business Management, where he achieved a top 15 score in the preliminary 100-question objective test and advanced to the final case study round where he presented a solution to a business management issue in the workplace.
Additionally, Gabriel Adest and Aditya Agrawal placed 8th in International Business, a team event structured in the same manner. The two rising seniors showcased their knowledge of marketing, finance, currency exchange, trade, and other international concepts by presenting a case study of a problem in the international arena after qualifying through the preliminary objective test.
Finally, rising junior Kevin Zhang placed eighth in Personal Finance, a 60-minute 100-question test that assesses competitors on their knowledge of budgeting, insurance, taxes, and other necessary financial obligations.
In addition, state champions and rising juniors Lucy Yu and Joanna Liu became national finalists in Introduction to Business Presentation, where they discussed the importance of modernization in business through digital transformation, ESG (Environmental, Social, [Corporate] Governance), and supply chain management.
When not at the conference, LHS students toured the host city of Atlanta, visiting the Georgia Aquarium, the College Football Hall of Fame, and the World of Coca-Cola. Students also played detective by participating in a Wild-West themed escape room and met members from around the world at the FBLA block party held in Olympic Centennial Park.
LHS students participated in the following list of events:
Event

Student (s)

Business Communications

Hannah He

Business Management

Andrew Tesoriero

Business Calculations

William Wang

Entrepreneurship

Sebastian Volante

International Business

Aditya Agrawal

Gabriel Adest

Introduction to Business Presentation

Joanna Liu

Lucy Yu

Introduction to Marketing Concepts

Cagan Deniz Ak

Introduction to Parliamentary Procedure

Tianyi Liang

Introduction to Public Speaking

Eric Niu

Mobile App Development

Suraj Nistala

Nilay Shriram

Personal Finance

Kevin Zhang

UX Design

Emma Wang
About FBLA-PBL, Inc.
Future Business Leaders of America-Phi Beta Lambda, Inc., the premier student business organization, is a nonprofit 501(c)(3) education association with a quarter million members and advisers in over 6,500 active middle school, high school, and college chapters worldwide. FBLA-PBL's mission is to inspire and prepare students to become community-minded business leaders in a global society through relevant career preparation and leadership experiences. The association is headquartered in Reston, Virginia, just outside of Washington, D.C. For more information, visit https://www.fbla-pbl.org/.
To learn more about NJ FBLA, visit https://www.njfbla.org