Return to Headlines
Mr. Gramata Honored by NAESP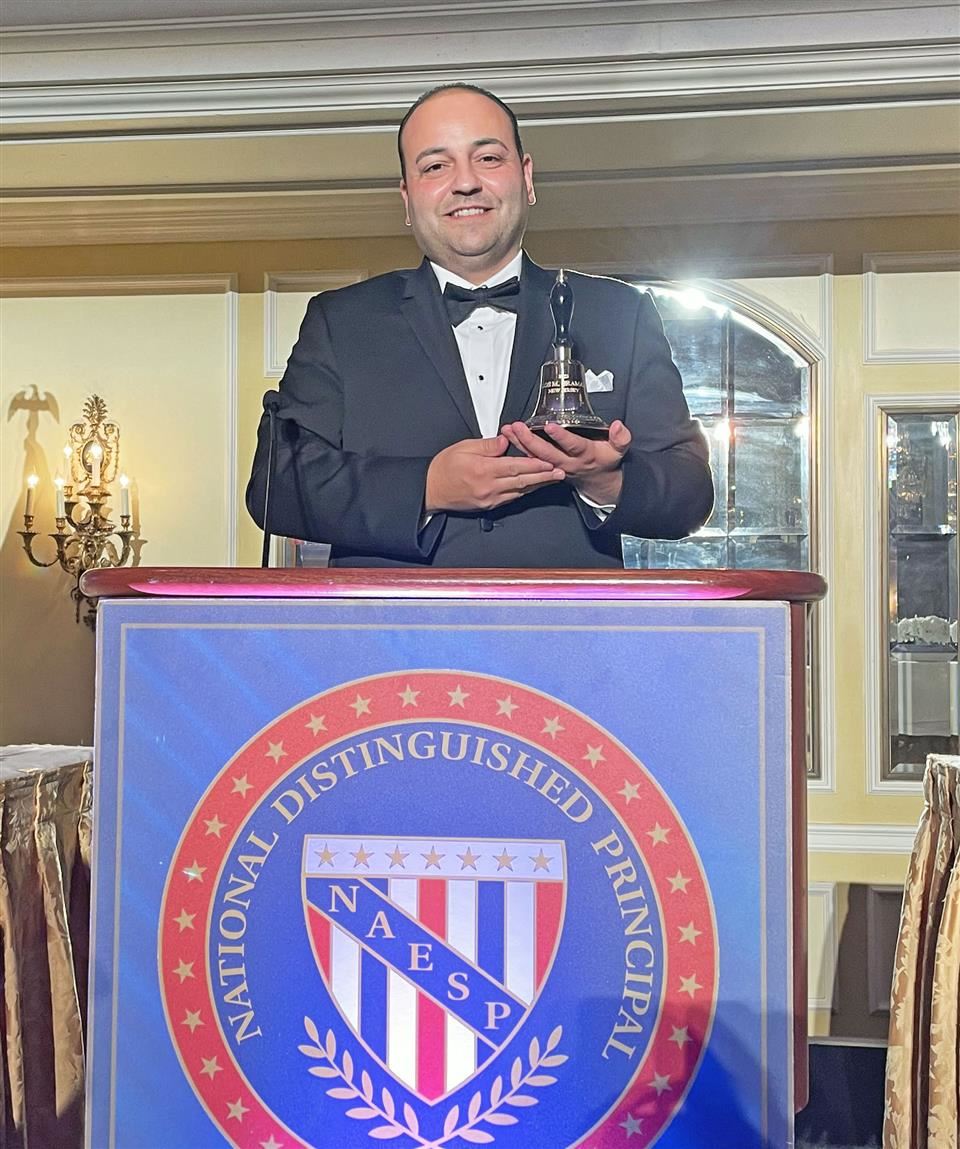 At the beginning of October, Hillside Elementary School principal Carlos M. Gramata was among the nation's leading elementary and middle-level educators who convened in Washington DC to be honored as the 2023 NAESP National Distinguished Principals! Established in 1984, the program recognizes public and private school principals who make superior contributions to their schools and communities. Mr. Gramata was one of just 37 exemplary elementary and middle-level principals from across the nation to receive this award.
The program, which is celebrating its 40th anniversary this year, was held at The Willard InterContinental in Washington, D.C. It included two days of events that culminated in an awards banquet. The two-day event provided attendees with the opportunity to network, share best practices, and learn from their peers. Mr. Gramata recounted that, in addition to the Friday evening gala, the program itinerary included special speakers at the Department of Education and a walk to the White House.
Describing the experience as "one of the highlights of my professional life so far," Mr. Gramata stated, "It was so special to be with principals from all over the country, to get to network and share stories."
Since 1984, the NDP program has recognized public and private school principals who make superior contributions to their schools and communities and has given them the opportunity to share best practices with each other. NAESP state affiliates, as well as the U.S. Department of State Office of Overseas Schools and the U.S. Department of Defense Education Activity, selected these 37 principal honorees, who join 2,327 principals before them who also call themselves NAESP NDPs.
"As we celebrate the 40th anniversary of the NAESP NDP program, it's fitting to reflect on the strength, dedication, and tenacity of the school leader," said NAESP Executive Director L. Earl Franks, Ed.D., CAE. "In those four decades, principals have found successful solutions to unforeseen challenges and grown in their practice to meet new needs of students and staff. These NAESP NDPs are no exception. Congratulations to the 2023 class, who we proudly recognize for their continued commitment to putting students and staff first, serving as innovative problem-solvers in an evolving education landscape, and building relationships as trusted members of their communities."
It is particularly fitting to acknowledge the work of principals in October because it is National Principals Month, which was established to recognize and honor the contributions of school principals toward the success of the nation's students and encourage awareness of their significance.
Criteria for selection of the principals require that the honorees are active principals of schools where programs are designed to meet the academic and social needs of all students and where there are firmly established community ties with parents and local business organizations.
 About NAESP
Established in 1921, the National Association of Elementary School Principals (NAESP) leads in the advocacy and support for elementary and middle-level principals in the United States and internationally. NAESP supports principals as the primary catalysts for creating lasting foundations for learning through policy and professional learning, advocacy, programs, and resources for effective instructional leadership. For more information about NAESP, please visit www.naesp.org.