Masterclasses Keep Music Alive!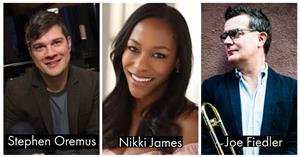 Led by LHS music teacher and choral director Josh Salzman, the Livingston High School Chorus has kept vocal music alive and well this school year! In addition to sharing and creating vocal recordings from their homes, students have also capitalized on some unique opportunities presented by the current situation.
Over the last few months, high school choral students enjoyed virtual visits via Zoom from LHS alumni and Tony Award Winners Stephen Oremus (Class of 1989) and Nikki M. James (Class of 1999), and Sesame Street Orchestrator Joe Fiedler. In these masterclasses, students had a chance to learn firsthand from music industry professionals, and engage in question and answer sessions.
In addition, since the usual large ensemble, in-person Winter Concert performance was not possible this year, Mr. Salzman organized the very next best thing by having students view one together live as a group! In December, students, families, and Mr. Salzman all live-streamed the Broadway Inspirational Voices Holiday Concert: A Season of Hope & Inspiration.
"In these unprecedented times when students are unable to sing in person, I wanted to offer as diverse and meaningful a choral experience this school year as possible. This meant refocusing the class to include more solo literature, music theory and literacy," explained Mr. Salzman.
"With Zoom becoming the new norm, it offered an opportunity to bring guests into the choral classroom on a regular basis, in a way that might not have been possible if these people had to physically travel to LHS," said Mr. Salzman, who reached out to about a dozen friends and colleagues who all have a tremendous amount of real world experience and expertise to share with his music students.
"I was so pleased they all said yes! We have had one incredible guest after another join us each month, with plans to continue the monthly masterclasses through the remainder of the school year," he concluded.