Interpretive Reading Competition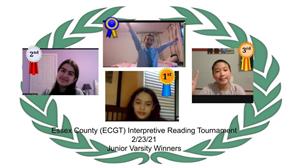 Teams from Mt. Pleasant and Heritage Middle Schools competed and excelled in the Essex County GT Forensics Interpretive Reading Competition that was held virtually last month.
Participants were required to read an excerpt of a book, a short story, or a poem using expression to project mood, theme, and characters. Interpretive reading requires students to convey and draw meaning from a selected text to share with an audience, while also using public speaking skills.
Dr. Dorian Gemellaro, who supervises the district's Forensics-Interpretive Reading schoolwide enrichment program, commented on the competition. "Students read passages from novels with amazing expression and emotion, captivating their Zoom audience during the Final Round. Both their selection choices and performances were amazing," she said.
In the Junior Varsity competition, winners included Emma Escobar Rivera, who took first place for her reading of The Telltale Heart by Edgar Allan Poe. Amisha Sethi earned a second place finish for reading Out of my Mind by Sharon Draper, while Lucas Liu placed third for his reading of The True Story of the Three Little Pigs by Jon Scieszka. Daniel Liang was named a Finalist for his reading of Harry Potter by J K Rowling.
In the Varsity competition, Maya Lederman earned a first place finish for her reading of an excerpt from
The Sun Is Also A Star
by Nicola Yoon. Earning second place was Joanna Liu for her reading of
Surviving Intimate Terrorism
by Hedda Nussbaum. Jenny Zhu was named a Finalist for her reading of
Little Women
by Louisa May Alcott.