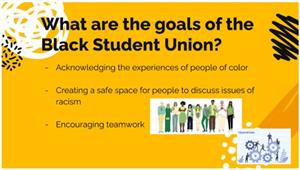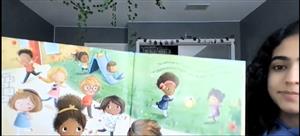 Members of Livingston High School's Black Student Union (BSU) came up with a hands-on, meaningful and innovative way to address issues of racism and privilege, and to promote diversity and inclusion, self-love, and advocacy within the LPS community. They decided to implement a plan to expose younger students to texts that were written by and feature black and brown individuals. They accomplished their goal by creating several age-appropriate lessons, using different texts, and sharing them with LPS elementary and middle schools.
BSU members who participated in this project included Naomi Bekuretsion, Sinit Mehari, Alyssa Brucal, Bupe Lwamba, Jadiel Enchautegui, Kyle Viteri, Stanley Labady, Amarachukwu Uzondu, Tanvi Dembla, Hunter Lee, Layton Lee, Bryce Kirkland, and Hanania Asfaw.
Club advisor and LHS English teacher Antoinette Alston explained that the BSU created this lesson plan project because members felt it was important for all students to become educated about aspects of the experiences of blacks in the United States and to be exposed to black authors and protagonists.
"We also felt it was important that the stories not all be about trauma, but that they show people of color in a positive light and encourage non students of color to take an active role in advocating for equity," she said. "Finally, students felt it was necessary for students of color at the elementary and middle school levels, who might feel isolated and underrepresented in the student and staff population, to see the faces of students of color at the high school level reading to them as a way of saying, 'You are not alone. We are here, we are thriving, and there is a safe space designed specifically for you.'"
The lessons were shared with LPS elementary and middle school teachers. Many of them responded to Ms. Alston with feedback regarding how the lessons went in the classroom.
"All feedback was positive and teachers and students seemed appreciative and moved," she noted.
Middle school English teachers were asked to implement the lessons in the classroom during the final week of Black History Month. Elementary lessons were not ready during Black History Month, so they were encouraged to use them at their own discretion.
"I know some teachers opted to wait for units that worked more organically with the lessons," said Ms. Alston.
"As club advisor, I think this project is important because with the amount of violence being enacted upon people of color everyday across this country, students of color need to understand that they are valuable and worthy of respect, love and human decency. And non students of color need to understand the role they play in perpetuating or ending the cycle of racism. This is not a black and brown issue; it is a human issue that requires a collective response," Ms. Alston stated.
"In terms of why I am so proud of the students, I was amazed at the number of students who volunteered to be readers and who were willing to practice and work on their recordings until they were the best they could be. I actually had so many students that I could not accommodate them all. This gives me hope that in future years, we can continue this project in an effort to not only reach a wider audience, but also to make discussions surrounding equity more commonplace," she concluded.
Please take a moment to watch previews of the lesson plans that LHS students created! (Please note, these preview links are accessible to LPS parents and students.)